Welcome to the website related to my book The Faith Equation: One Mathematician's Journey in Christianity (FEQ). The book (FEQ) presents a defense, or evidence, for the Christian faith within a framework of mathematics. The book is a companion to my memoir, One Man's Journey Through Mathematics (OMJ), an account of my personal experiences over 39 years as an author of mathematics textbooks for college students as published by Addison-Wesley Publishing Co.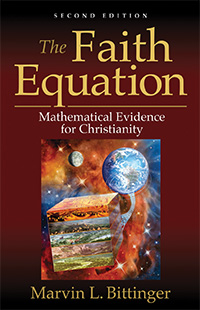 Christian Quotation of the Day
All who call on God in true faith, earnestly from the heart, will certainly be heard, and will receive what they have asked and desired, although not in the hour or in the measure, or the very thing which they ask; yet they will obtain something greater and more glorious than they had dared to ask.
…Martin Luther (1483-1546)