Welcome to the website related to my book The Faith Equation: One Mathematician's Journey in Christianity (FEQ). The book (FEQ) presents a defense, or evidence, for the Christian faith within a framework of mathematics. The book is a companion to my memoir, One Man's Journey Through Mathematics (OMJ), an account of my personal experiences over 39 years as an author of mathematics textbooks for college students as published by Addison-Wesley Publishing Co.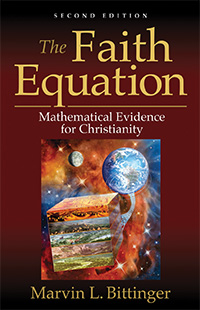 Christian Quotation of the Day
If the [Incarnation] happened, it was the central event in the history of the Earth葉he very thing that the whole story has been about. Since it happened only once, it is by Hume's standards infinitely improbable. But then, the whole history of the Earth has also happened only once: is it therefore incredible? Hence the difficulty, which weighs upon Christian and atheist alike, of estimating the probability of the Incarnation. It is like asking whether the existence of nature herself is intrinsically probable. That is why it is easier to argue, on historical grounds, that the Incarnation actually occurred than to show, on philosophical grounds, the probability of its occurrence.
… C. S. Lewis (1898-1963), Miracles [1947]