Welcome to the website related to my book The Faith Equation: One Mathematician's Journey in Christianity (FEQ). The book (FEQ) presents a defense, or evidence, for the Christian faith within a framework of mathematics. The book is a companion to my memoir, One Man's Journey Through Mathematics (OMJ), an account of my personal experiences over 39 years as an author of mathematics textbooks for college students as published by Addison-Wesley Publishing Co.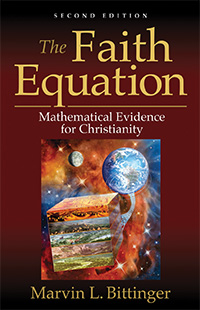 Christian Quotation of the Day
The Gospel is not presented to mankind as an argument about religious principles. Nor is it offered as a philosophy of life. Christianity is a witness to certain facts — to events that have happened, to hopes that have been fulfilled, to realities that have been experienced, to a Person who has lived and died and been raised from the dead to reign for ever.
…Massey H. Shepherd, Jr. (1913- ), Far and Near