Welcome to the website related to my book The Faith Equation: One Mathematician's Journey in Christianity (FEQ). The book (FEQ) presents a defense, or evidence, for the Christian faith within a framework of mathematics. The book is a companion to my memoir, One Man's Journey Through Mathematics (OMJ), an account of my personal experiences over 39 years as an author of mathematics textbooks for college students as published by Addison-Wesley Publishing Co.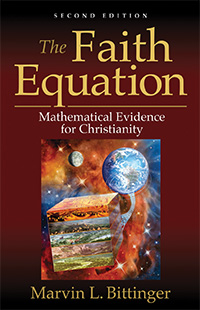 Christian Quotation of the Day
We Christians must simplify our lives or lose untold treasures on earth and in eternity. Modern civilization is so complex as to make the devotional life all but impossible. The need for solitude and quietness was never greater than it is today.
…A. W. Tozer (1897-1963)